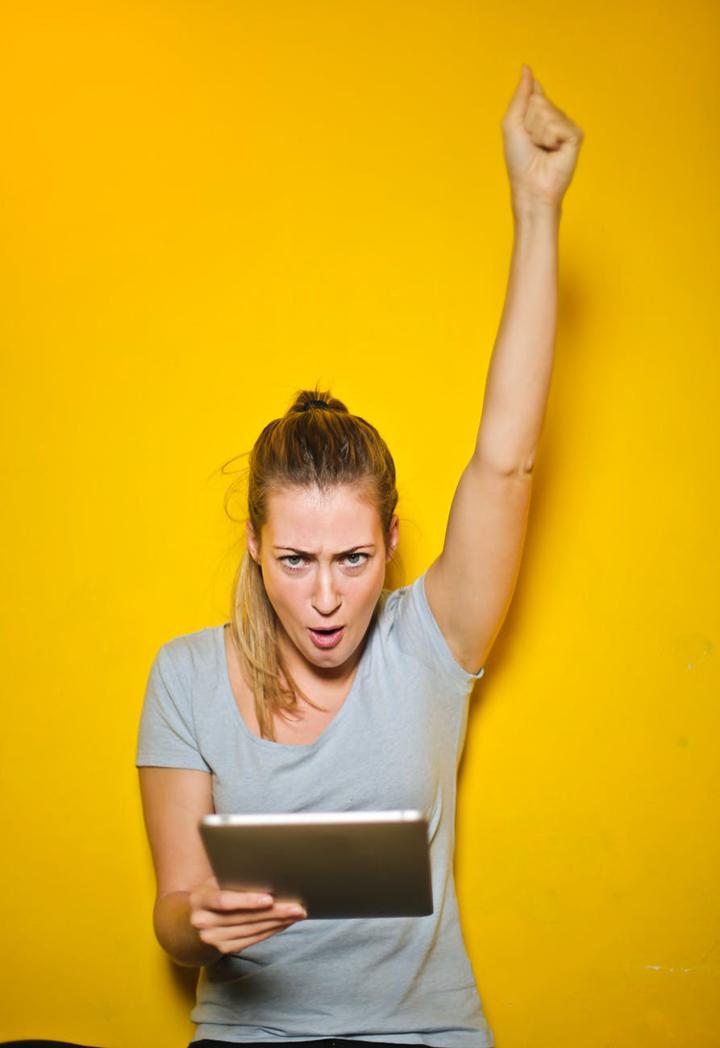 If you can't make your message relevant to your prospect in about .3 seconds… they're out.
You're not getting a click, a reply… and you can forget about a meeting.
Because they're not reading it.
So the question becomes, "How do I make myself relevant -- fast?"
This is where the "personalization" debate with cold email falls short. 
Most personalization lacks context for why you're reaching out. Alma maters? Usually not relevant in a business context. 
Hobbies? Also lacking relevancy in the context of why you're reaching out (unless you've got a REALLY good analogy to go with it).
If your prospect is an active thought leader in their industry, you can definitely personalize based on their relevant content.
But in reality? Only a tiny fraction of your prospects are posting regular, relevant content.
Use it when you can, but personalization it can't be your only strategy.
How do you make yourself relevant without "personalizing" your cold emails?
You look for context instead. One formula I like is to pick an industry and then pair it with one or two other criteria that makes it possible to write a highly relevant email -- no personalization necessary.
I call these "micro-verticals"
A strong micro-vertical can have as few as 200 prospects… Or as many as several thousand.
The key is in the relevancy. Not the number.
A few real-life micro-vertical examples:
-- Beauty brands that sell both DTC and at [specific retailer]… But don't have a presence on [specific platform]
-- Direct marketing companies that use [specific marketing medium - like webinars] … But aren't on [specific marketing channel] where others just like them have seen incredible success
-- Enterprise orgs who have had leadership changes or mergers in the last 6 months
Getting specific in your list-building allows you to get really specific in your outreach. Which is the key to showing relevancy fast.
What happens when you build relevancy right into your prospect lists?
✅  That campaign around leadership changes and mergers delivered 22 executive-level leads each month. From multinational, enterprise companies.
✅  That campaign to beauty brands cranked out 200+ meetings from a tiny list.
✅  Those direct marketing companies are reaching out to talk about diversifying their traffic channels.
Why did they deliver?
Because we were able to create relevancy fast. It started with the way the list was built, and allowed us to write messaging that resonated immediately with the recipients.
That's what the "kids" these days call personalization at scale.
And what us olds simply call good outreach.
In fact, that campaign to direct marketing companies earned us our very first review on Clutch, a B2B ratings and reviews platform.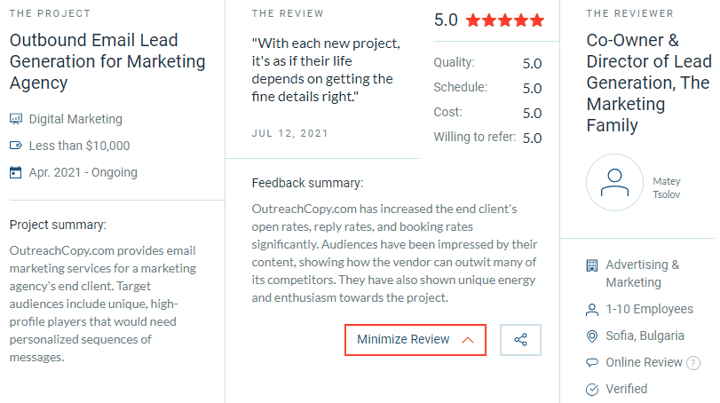 It also got us featured on Clutch's sister site, The Manifest, a business news and how-to website. (The Manifest lists the top companies to help you find your next business partner by skimming their free shortlist of top-performing agencies from around the globe.)
The takeaway
👉 As a strategy: Relevancy > than personalization.
👉 Start with your lists. Get specific about your micro-verticals.
👉 Write your messaging to those micro-verticals.
And of course - if you need help with this, my team is just a Zoom away.
Summon us to a Discovery Call here, and we'll give you our unabridged thoughts on your campaigns and the best strategy to hit your targets.
No pressure. No hard-sells. Just good time geeking out on your lead gen. ;)